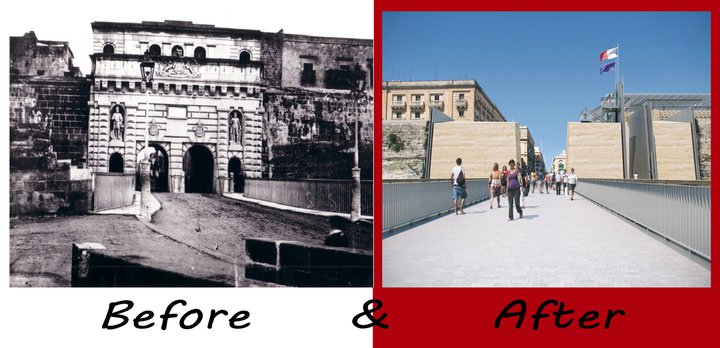 This post was written before the last phase and completion of building works in Valletta.
Oh! How an image can create such controversy. There's a really interesting 'group' on Facebook called 'Malta Once Upon A Time'. I highly recommend it. From my point of view as a part-time amateur historian and as someone who knows these Mediterranean islands it's a real learning curve through old images. So, that's great then … end of story, goodnight and thank you!
Malta's beautiful ancient capital city, Valletta, is having a makeover. The entrance is being rebuilt (for the fifth time in about 450 years). City Gate built in the 1960's has been ripped down and the area close to it is being reconstructed according to the designs of the world-famous architect Renzo Piano. It was Piano who designed the truly amazing Shard in London (currently nearing completion).
The Malta Government's decision to incorporate Renzo Piano's vision into the old city of Valletta has been controversial to say the least. The work now is so far advanced all the Maltese (and the rest of us) can do now is to sit and wait to see the final results.
Contrary to the ill-informed I have never had an opinion of these design proposals. Its none of my business and if the truth be known I genuinely don't have a view one way or another anyway. Just so long as the historic value of this wonderous city is not in any way eroded I'd say this is the future and its in the hands of Malta's current decision makers who must have done their homework. Like thousands of Maltese and non-Maltese I did have a view and I supported those who were up in arms at Malta's Prime Minister's desire to remove theatre status from the sad reminder of the dark years of war that is the Opera House. Lawrence Gonzi bravely reversed his opinion regarding the old theatre and the world had a collective sigh of relief.
So, back to city gate. It seems that some in Malta are nervous of the new structure that is going to welcome us to Valletta. Some hark back to olden days and would like a somewhat more traditional Victorian design. Others are comfortable with the broad open statement that is Renzo Piano's design in the making. I have knocked together my own 'Before and After' based on a little research:
In a way the new Gate forms part of a new phase for Valletta. Here is a city dearly loved. If those bastions, those great thick city walls, could only talk. So much has happened over the centuries – in the life of this great capital. Generations have come and gone. Valletta was here long before us and will stand long after our brief time. City Gates come and go but the fabric and the story of this great city is forever.